List & Label has a sophisticated handling of default fonts. You can set a default project font and in this way style all objects that use this default in one single, central place. If the default isn't good enough for an object, field or paragraph, you can choose to override the default for this specific object.
Up to version 21 however, you only had the choice to stick with the default font or completely override it with a custom font. So there's no option to get "the default font, but bold". We'll introduce a new feature in version 21 that's going to change this and allows you to just override selected properties of the font while keeping the rest in sync with the default.
The following screenshot shows the UI for this feature. The font properties are now enabled even if the "Default" property is set to "Yes". For each of the properties besides the font face name and character set, you can now choose a value different from "Default":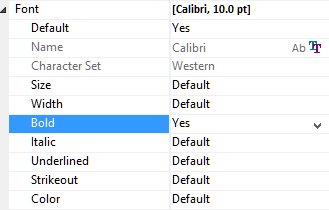 This way, you can change the default font and the affected object will use the new default font with all of its properties, but will always use a bold font face. A huge improvement when designing complex reports in a volatile Corporate Identity environment.