In the past, our yearly customer survey was one of the main sources for new feature ideas. While we absolutely appreciate all contributions we've received this way, it was a single spike in new ideas, and the ideas were isolated from each other.Wouldn't it be great to have a platform where we all could discuss new ideas together, improve them in a community process and vote for features that would help in your own application?
Enter the brand new feedback portal for List & Label. This portal enables you to enter new feature requests, browse existing requests, comment them and vote for your favorites.
Please note, this portal is available to our customers only, i.e. you need to have a registered List & Label license and a running subscription or up-to-date Standard Edition.
This is how it looks: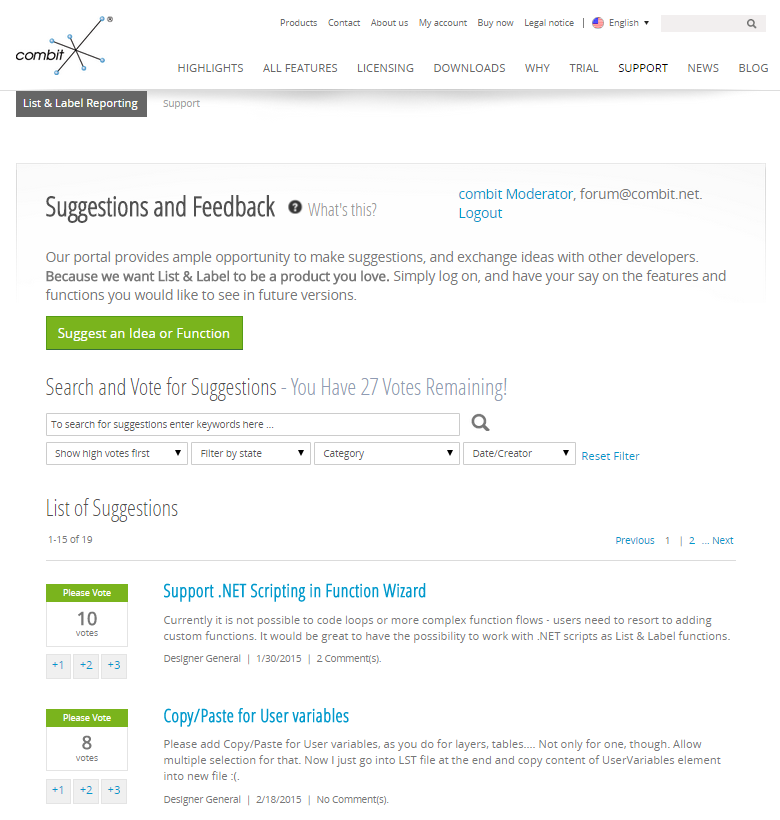 And this is how it works:
First, check to see if someone else has posted a similar idea/suggestion. If a similar suggestion has already been posted, you can vote for it. You can allocate one, two or three votes. The total number of votes you can use depends on your edition of List & Label: Enterprise: 30 votes, Professional: 20 votes, Standard: 10 votes.
If nobody else has posted a similar suggestion, it's time to create a new one. If your suggestion is particularly important to you, you can vote for it once it's published. Use the Subscribe feature if you would like to be notified when someone (e.g. a member of our team) comments on your idea.
Once your idea has reached the 'Please vote' stage, other users can vote for it or discuss it in the comments. The more votes an idea receives, the higher the chance of it being implemented quickly. If your company has multiple List & Label licenses and has registered every license to a named person, every colleague will be able to vote.
Of course, combit team members will also post comments or ask questions on suggestions. If we decide to implement a suggestion, it will move on to the 'Planned' stage. At this point, we will reimburse you for all the votes you cast on this suggestion, so you can use them again. After that, it will move to 'In beta version' – available for Enterprise Edition only – and finally 'In latest version'. If we are unable to implement a suggestion for any reason, we will update the suggestion's status to 'Unfortunately not feasible at this time'. If this happens, we will still refund all the votes you cast on this suggestion.
The portal will be linked from our support area shortly. It will only be available in English to make discussions amongst our international customer base possible, however we're glad to translate comments from other languages (at least if it's a language we're capable of ;)).
Can't wait? Log in is easy:
FIRST:
Log into your combit account as usual
THEN:
Click this link here to leave feedback
Not working? Check the following:
Make sure you have registered your List & Label Edition
Make sure your subscription (Professional/Enterprise Edition) has not expired or your standard edition is up-to-date
I'm really thrilled to have this online finally, this was my no. 1 feature request to our web team actually. I hope you find the new portal easy to use and helpful as well. I'm looking forward to even more working together with you to make List & Label a product you love