The aggregate functions Minimum and Maximum now allow date values as parameter.
New date & time picker control for report parameters: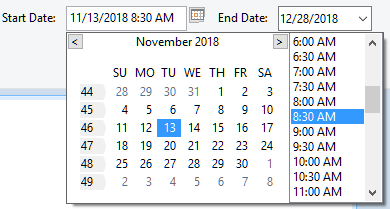 For multi-row line charts and line charts with a secondary axis, the line type (i.e. solid, dashed, …) can now be selected.
The preview can now be set to display pages in original size on the screen. That way, a Letter page is displayed in Letter size.
In invoice type projects (i.e. AutoMasterMode is set to AsVariables), a sort order for the root table can now be defined if the project node is selected in the object window. This enables e.g. sorting your invoice merges by date or recipient name.
That's it, all innovations in LL23 have been revealed! 🙂
I'll be looking forward to revealing all the new features of version 24 as of next spring. Of course our development team is already busy at work.